At Unmistakable, we're passionate about great content.
Content that tells your story. Content that captures your tone of voice. Content that excites, inspires, informs, and sells. Content that's correct.
So, whether you'd like some content created for you, or you've got some that you'd like improved, why not get in touch and tell us how we can help?
Or, if you'd like to find out a bit more about us first, the buttons below are a great place to start.













We've been really impressed with Unmistakable and the services Claire provides. Professional, fast and a great personality makes working with Claire to improve the quality of our news stories and website a real pleasure. 100% genuinely recommend this service. Claire has definitely improved the quality of our website which makes us all prouder of what we do each day.
I love working with Claire from Unmistakable. She ensures that the brief comes to life in her copy, and her meticulous attention to detail, approachable personality and great work ethic are an absolute pleasure to work with. I would highly recommend using her services as a copywriter, editor and proofreader.
Claire has recently proofed my website pages and I am thrilled with the result. Claire saved me so much time by providing the changes visually in a PDF, with digitally marked up comments. Her approach was methodical and thorough demonstrating great attention to detail. Not only did she pick up grammar and spelling changes, she proactively made suggestions and comments about how to improve the context of a sentence or phrase. Engaging Claire has saved time and given me a level of confidence that we are projecting the best version of ourselves to the outside world.
Claire found grammatical, punctuation and spelling errors that had slipped past me, and made helpful suggestions regarding the phraseology in certain parts of my document, thus helping turn it into a more polished article. I was very pleased with the work she undertook for me and would highly recommend her services to anybody looking for a good proofreader.


and I like things to be perfect.
It's a personality trait that has been with me all my life and has driven me mad for much of it. Another thing I've had since childhood is a true love of words and writing. As a 10-year old I wanted to write books, but when the time came to start my career, I chose corporate financial services. It was a good place to exercise that perfectionist streak but not a particularly creative environment.
I spent the last half of that 27-year career managing print. Whereas poor spelling and grammar had previously irritated me, suddenly they became things that cost money. I knew exactly how much money because I had to arrange the reprints. Ouch. It was apparent that having content reviewed by several sets of untrained eyes was no substitute for a proper proofreader.
Realisation dawned that this was something I could apply my strongest traits and abilities to, so I enrolled in a Diploma of Proofreading and Copy Editing, graduated with excellence, and started Unmistakable. But, wait! Something was still missing – that elusive creative element. I didn't just want to make other people's content better; I wanted to write it myself. So, after some more study at The Australian Writers' Centre, I launched my copywriting service.
Working with words is something I've been doing my whole life. I'd love to help you make your website, book, blog, or business collateral unmistakable.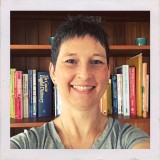 I'm a huge geek. I've written a lot of FanFiction. It turns out that writing in someone else's universe is great training for tuning into their tone and style. Who knew?
I love gadgets, shopping, talking, cricket, video editing, and singing in the car.
I got married at the zoo.
One day I'd like to chase tornadoes.



If you'd like a quote, or have any questions, get in touch!
International customers:
+64 204 477 663